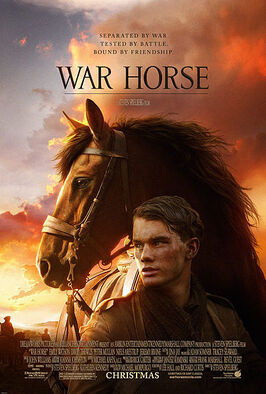 War Horse is a 2011 war epic motion picture directed by Steven Spielberg. It is based on both War Horse, a children's novel set before and during World War I, by British author Michael Morpurgo, first published in the United Kingdom in 1982, and the 2007 stage adaptation of the same name.
The cast includes David Thewlis, Benedict Cumberbatch, Jeremy Irvine, Emily Watson, Tom Hiddleston, Eddie Marsan, Toby Kebbell and Peter Mullan.[5][6] The film is produced by Spielberg and Kathleen Kennedy, and executive produced by Frank Marshall and Revel Guest. Long-term Spielberg collaborators Janusz Kamiński, Michael Kahn, and John Williams all worked on the film.
The film is currently in contention for six Academy Awards and five BAFTAs. It was also nominated for two Golden Globe Awards.
International Film Award
Edit
This film was nominated for 4 nominations for International Film Award in the 1st Edition in 2012:
Best Cinematography
Best Film Editing
Best Score
Best Sound