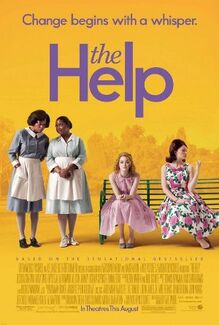 The Help is a 2011 drama film adaptation of Kathryn Stockett's novel of the same name. The film is an ensemble piece about a young white woman, Eugenia "Skeeter" Phelan, and her relationship with two black maids during Civil Rights era America in the early 1960s. Skeeter is a journalist who decides to write a controversial book from the point of view of the maids (known as the Help), exposing the racism they are faced with as they work for white families.
The film takes place in Jackson, Mississippi, and stars Emma Stone, Viola Davis, Octavia Spencer, Bryce Dallas Howard, Jessica Chastain, Sissy Spacek, Mike Vogel, Mary Steenburgen, and Allison Janney. The Help opened to positive reviews and became a massive box office success with gross of $205.3 million against its budget of $25 million. In January 2012, the film received four Academy Awards nominations including Best Picture and acting nods for Davis, Chastain and Spencer. On January 29, 2012, The Help won the Screen Actors Guild Award for Outstanding Performance by a Cast in a Motion Picture.
International Film Award
Edit
This film was nominated for 5 nominations for International Film Award in the 1st Edition in 2012 and the film won one award:
Best Supporting Actrees
Nomination Best Film
Nomination Best Actrees in a Leading Role
Nomination Best Adapted Screenplay
Nomination Best Ensemble
Ad blocker interference detected!
Wikia is a free-to-use site that makes money from advertising. We have a modified experience for viewers using ad blockers

Wikia is not accessible if you've made further modifications. Remove the custom ad blocker rule(s) and the page will load as expected.