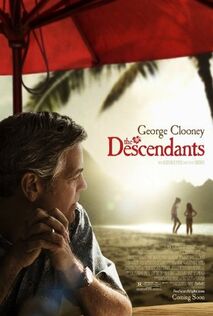 The Descendants is a 2011 American comedy-drama film directed by Alexander Payne. The screenplay by Payne, Nat Faxon and Jim Rash is based on the novel by Kaui Hart Hemmings. The film stars George Clooney, Shailene Woodley, Judy Greer, Matthew Lillard and Beau Bridges, and was released by Fox Searchlight Pictures in the United States on November 18, 2011 after being screened at the 2011 Toronto International Film Festival.
In January 2012, The Descendants won two Golden Globe Awards and earned five nominations at the 84th Academy Awards including Best Picture, Best Director and Best Actor for Clooney.
International Film Award
Edit
This film was nominated for 5 nominations for International Film Award in the 1st Edition in 2012 and the film won an award:
Best Comedy or Drama Film
Nomination Best Film
Nomination Best Actor in a Leading Role
Nomination Best Film Editing
Nomination Best Art Direction
Ad blocker interference detected!
Wikia is a free-to-use site that makes money from advertising. We have a modified experience for viewers using ad blockers

Wikia is not accessible if you've made further modifications. Remove the custom ad blocker rule(s) and the page will load as expected.