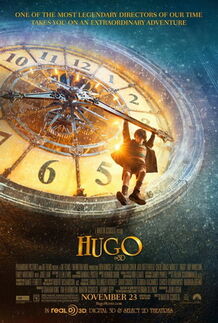 Hugo is a 2011 3D adventure drama film based on Brian Selznick's novel The Invention of Hugo Cabret about a boy who lives alone in a Paris railway station and the enigmatic owner of a toy shop there. It is directed by Martin Scorsese and written by John Logan. It is a co-production of Graham King's GK Films and Johnny Depp's Infinitum Nihil. The film stars Asa Butterfield, Chloë Grace Moretz, Ben Kingsley, Sacha Baron Cohen, Ray Winstone, Emily Mortimer, Jude Law and Christopher Lee.
International Film Award
Edit
This film was nominated for 13 category for International Film Award in the 1st Edition in 2012, and the film wins three awards:
Best Film Editing
Best Makeup
Best Sound
Nomination Best Film
Nomination Best Comedy or Drama Film
Nomination Best Adapted Screenplay
Nomination Best Directing
Nomination Best Cinematography
Nomination Best Art Direction
Nomination Best Costume Design
Nomination Best Ensemble
Nomination Best Scene
Nomination Best Score
Ad blocker interference detected!
Wikia is a free-to-use site that makes money from advertising. We have a modified experience for viewers using ad blockers

Wikia is not accessible if you've made further modifications. Remove the custom ad blocker rule(s) and the page will load as expected.