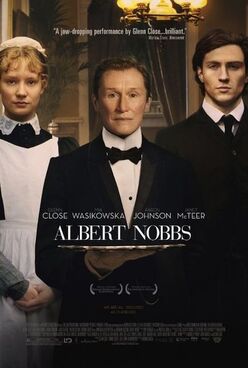 Albert Nobbs is a drama film starring Glenn Close and directed by Rodrigo García. The screenplay is based on a short story by Irish novelist George Moore.
The film met with mixed reviews but Glenn Close´s performance was acclaimed with two nominations for both the Golden Globe Award for Best Actress – Motion Picture Drama, and the Academy Award for Best Actress. Also Janet McTeer has been nominated for Academy Award for Best Supporting Actress. The film has been nominated for the Academy Award for Best Makeup.
International Film Award
Edit
This film was nominated for 6 category for International Film Award in the 1st Edition in 2012
Nomination Best Comedy or Drama Film
Nomination Best Actrees in a Leading Role
Nomination Best Supporting Actrees
Nomination Best Adapted Screenplay
Nomination Best Directing
Nomination Best Makeup
Ad blocker interference detected!
Wikia is a free-to-use site that makes money from advertising. We have a modified experience for viewers using ad blockers

Wikia is not accessible if you've made further modifications. Remove the custom ad blocker rule(s) and the page will load as expected.