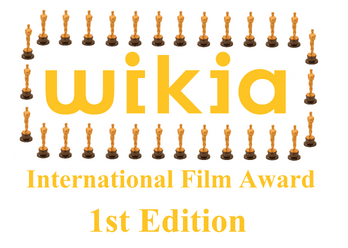 This is the first edition of
International Film Award
, referred to the year 2012. The list of nominees was announced on 8 February 2012. Winners will be announced, however, on 11 February 2012.
The team of experts of the first edition is composed by:
Nominees and winners
Edit
Nominees and winners for the 1st edition of the International Film Award were:
Best FilmEdit
Best Animated FeatureEdit
Best Action FilmEdit
Best Comedy or Drama FilmEdit
Best Actor in a Leading RoleEdit
Best Actrees in a Leading RoleEdit
Best Supporting ActorEdit
Best Supporting ActreesEdit
Best Original ScreenplayEdit
Best Adapted ScreenplayEdit
Best DirectingEdit
Best CinematographyEdit
Best Film EditingEdit
Best Art DirectionEdit
Best MakeupEdit
Best Costume DesignEdit
Best ScoreEdit
Best EnsembleEdit
Best SceneEdit
Best SoundEdit
Statistics winnings/nominations
Edit
Ad blocker interference detected!
Wikia is a free-to-use site that makes money from advertising. We have a modified experience for viewers using ad blockers

Wikia is not accessible if you've made further modifications. Remove the custom ad blocker rule(s) and the page will load as expected.